Nellie, our sweet ten-year-old Doberman passed away yesterday afternoon..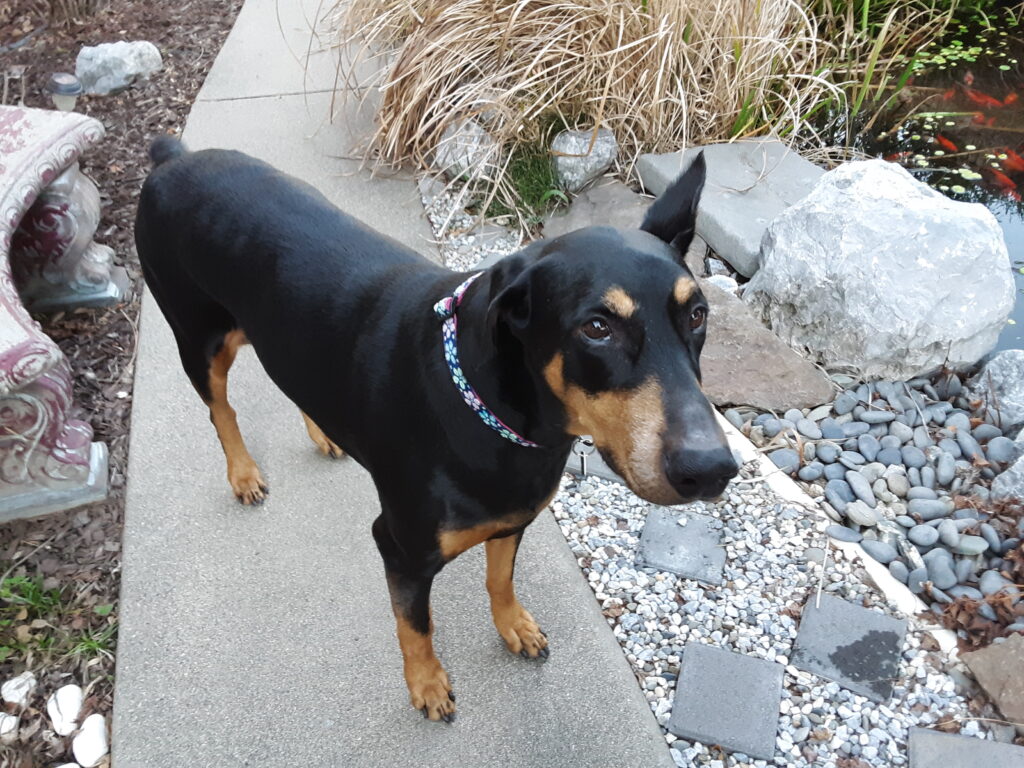 Nellie, our sweet ten-year-old Doberman passed away yesterday afternoon.
It was sudden and unexpected, we had no idea that she had cancer, Osteosarcoma.
We walked three times a day. She was getting older, and the walks became shorter over time.
She showed no signs of pain in her front legs. Tail wagging most of the time. Eating food, supplements, and yogurt daily. Regular rest and sleeping most nights except for pee breaks. No signs of discomfort, nothing to give us notice. I could tell when she was ready for the first walk. After my shower and the moment, I put my feet into my pants she knew morning walk two was about to begin. When I arrived home in the evening her first order of business was that walk.
Nellie was a rescue friend from the local humane society. We were only able to spend time with her for two and a half years as she enriched our lives. We had no idea what life was before us, but we both knew she was happy spending time with us.
She barked very rarely, usually a squirrel or the big bird trying to land near the goldfish pond. We had her for several weeks before we heard the first bark, and only maybe a dozen or so other barks.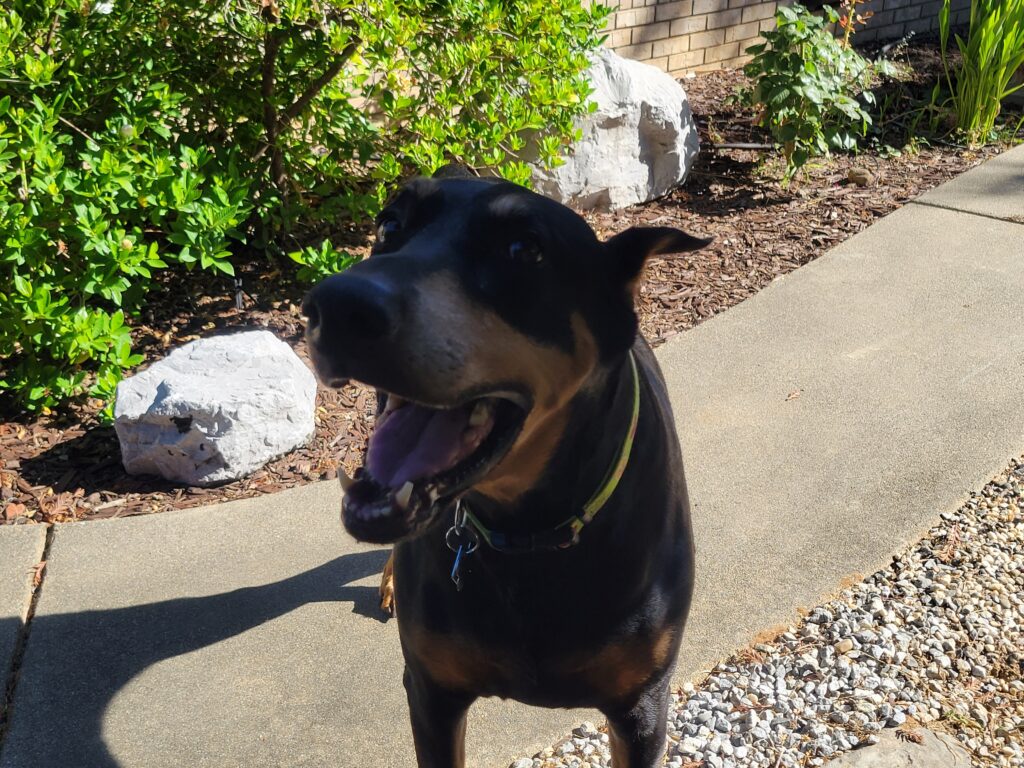 Nellie was patient. She frequently has what we saw as a smile on her face. When she was ready to go outside and bask in the sun, she would stand by the sliding door. When my feet went into my pants she would wait patiently for that walk. When I was at the front door putting on my shoes for the walks, patiently waiting for the shoes to go on, then the harness and off we went.
Being a Doberman, she had her tail docked and her ears cropped. One ear up and one ear had fallen by the time we came into her life. Her tail was regularly moving, letting us know she was happy most of the time. Ready to eat, tail wagging. Time for any one of those three walks, tail wagging. She was the most expressive tail-wagging dog we have ever experienced. That combined with the one ear up and one ear down will always make for a unique memory of our time with Nellie.
She had a favorite squeaky toy that she loved to squeak when she had happy moments and at times in the morning when it was time, she thought we should be up.
Yesterday morning was our last two walks. Last night our walk was different because it was a walk in memory of Nellie.
She will be missed. We have had other four-legged friends who have passed before her and hope to meet up with all of them in the future.